Application deadline: Sunday, September 17, 2017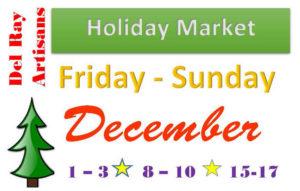 Applications for exhibitors in Del Ray Artisans' 22nd Holiday Market to be held in December 2017 are now open. The market is the first three weekends in December. Different artists from a variety of media categories will be selected for each weekend. Artists who apply by the September 17 deadline will be notified of acceptance by September 29. Del Ray Artisans members and non-members are eligible, so apply now! Members receive priority and a discount.
All work sold at the Holiday Market must be handmade by the artist selling the work and originals need to have been made within the last 3 years. Reproductions are acceptable as long as the original was made by the artist within the last 3 years.