Pre-order now through early November!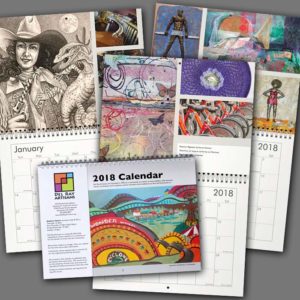 Keep track of your 2018 dates with a calendar featuring artwork by Del Ray Artisans members! The calendar showcases 45 pieces of art from 44 local artists. Three to four artworks are highlighted each month.
The wall calendar comes pre-printed with Del Ray Artisans events, community events (from Del Ray Business Association, Del Ray Community Association, and more), national holidays, and major religious holidays.
Pre-order the calendar now for just $16/calendar (a $3 discount). This price is only available until the calendars arrive at Del Ray Artisans gallery in early November. [UPDATE: Pre-order price will be honored through November 8, 2017.]
NOTE: Calendars will not be shipped. You will be notified when your order is ready to pick up.
Once the calendars arrive at the gallery in early November, they will be on sale for $19/calendar. All proceeds support Del Ray Artisans, a 501(c)(3) nonprofit organization. For more information on the calendar fundraiser, contact the Director of Fundraising, Joe Franklin, at Fundraising@DelRayArtisans.org.
Del Ray Artisans gallery is located in the Colasanto Center at 2704 Mount Vernon Avenue, Alexandria, Virginia 22301. Regular gallery hours are: Thursdays 12-6pm, Fridays 12-9pm, Saturdays 12-9pm, and Sundays 12-6pm. The first three weekends in December, hours are revised to the Holiday Market hours: Fridays 6-9pm, Saturdays and Sundays 11am-6pm. The gallery is closed December 18, 2017 through January 1, 2018. The gallery is free, open to the public, and handicap accessible.
For more information on Del Ray Artisans, visit www.DelRayArtisans.org.
Del Ray Artisans, founded in 1992, is a nonprofit organization whose mission is to promote art for the benefit of artists and the community.
Del Ray Artisans (DRA) appreciates the continued support from the City of Alexandria, Alexandria Commission for the Arts, Virginia Commission for the Arts, and National Endowment for the Arts. DRA is a 501(c)(3) organization.
---
Short Blurb – 35 words or fewer
Pre-order your copy of Del Ray Artisans' 2018 wall calendar! You'll enjoy 3-4 new pieces of art each month. Pre-printed with Del Ray community events. From October until early November, order for $16/calendar at: squareup.com/store/del-ray-artisans/item/wall-calendar
Synopsis – 75 words or fewer
Pre-order your copy of Del Ray Artisans' 2018 wall calendar! You'll enjoy 3-4 new pieces of art each month, plus the calendar comes pre-printed with Del Ray community events (Del Ray Artisans, Del Ray Business Association, Del Ray Citizens Association, and more). From October until early November, you can pre-order for just $16/calendar (a $3 discount). Proceeds from this fundraiser support Del Ray Artisans, a 501(c)(3) nonprofit organization. Pre-order now at: squareup.com/store/del-ray-artisans/item/wall-calendar