First 3 Weekends in December 2017
December 1-3, December 8-10, December 15-17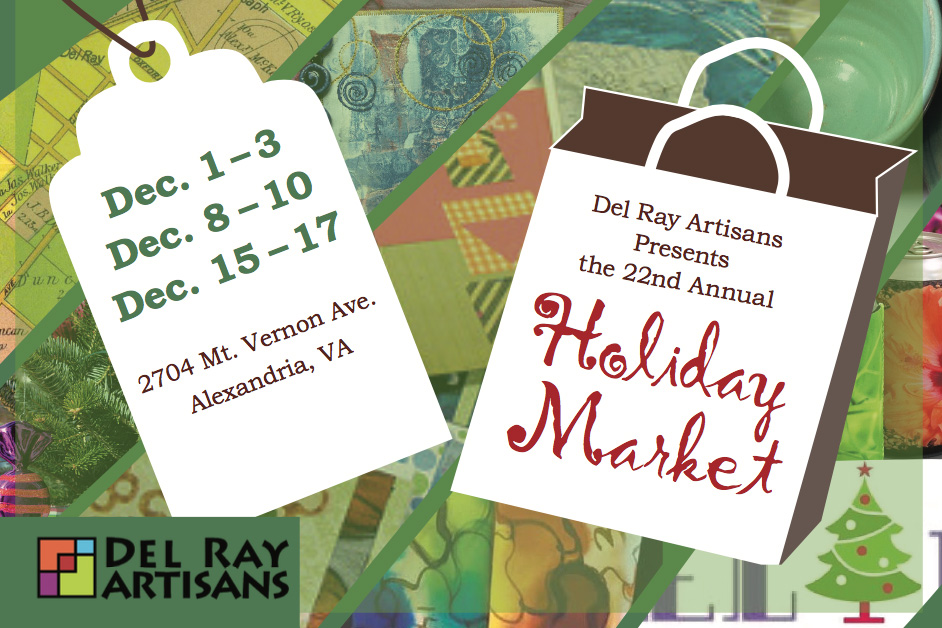 Join us the first three weekends in December as Del Ray Artisans' 22nd Annual Holiday Market offers unique handcrafted fine arts and crafts from local artists. As always, the artists are presenting a variety of media, including botanical drawings, fiber/textiles, glass, jewelry, mixed media, mosaics, painting, paper crafting, photography, pottery/ceramics, sculpture, watercolor, wood turning, and more! Different artists are featured each weekend!
This year's Holiday Market artists are: Jen Athanas (Jen-Fusion Fashion Accessories), Becky Barnes, Romona Bordelon, Lauren Boyle, Lynn Chadwick (Lynn Chadwick Design), Marche Covington, Marcel Artes Deolazo, Kajal Dhabalia (Wholesome Soul), Joyce Fallin, Chris Fedderson (MacroFine Photography), Lynn Fernandez (Now Brace Yourself), Marcelle Fozard, Brittany Gabel (BG Mixed Media), Kate Gibney (Lucid Arts Jewelry), Alanna Graboyes, Nicole Hampton, Sharon Harley, Maria Illingworth (Maria's Windows), Maria Kaneer, Nancy Kline, Jenn Kukorlo, Leigh Lafosse, Stephen Lally (Stephen Lally Pottery), Leroy Leal (El Tejano Studios), Genevieve Lynn (Jade River Studio), Liz Martinez, Lisa McBride, Patti North (All Fired Up), Eileen O'Brien, Claudia Olivos, Diana Papazian (Papazian Jewelry Designs), Bindu Parikh (Nirvana Inc), Madeline Ramsey (Unique Stained Glass), Dick Ratcliff, Ken and Sue Reed, Tangelo Roe, Ellen Rosenthal, Terry Rowe, Imani Russell (Indigo's Friends Studio), Samantha Shelton, Kevin Sherlock, Lisa Sikes (Heart & Hammer Furniture Co LLC), Kent Slowinski (Washington Monuments), Howard Stelzer (How-Aud's Creations), Meg Tally, Ron Tickerhoff (WolfMountain Glass), Marcia Toepfer, Vy Tran (Vyness' Design), Victoria Walchak, Tamara Wilkerson (WiRealmby Tamara), Tracy Wilkerson (Recycled Works), Karen Williamson, and Eli Wilson. Visit Del Ray Artisans' website to see which weekend each artist is present.
Artists are donating a percentage of their sales to Del Ray Artisans to help support future programs. In addition, we have available for purchase: (1) Del Ray Artisans' 2018 wall calendars, featuring the art of local artists and pre-printed community events; (2) cookbooks with Del Ray Artisans' members favorite recipes; and (3) upcycled tote bags and zippered pouches crafted from past art exhibit banners—the ultimate recycle/reuse transformation! Proceeds support the 501(c)(3) nonprofit.
The Holiday Market is on December 1-3, December 8-10, and December 15-17, 2017 at Del Ray Artisans gallery in the Colasanto Center, 2704 Mount Vernon Avenue, Alexandria, Virginia 22301. Market hours are: Fridays 6-9pm and Saturdays & Sundays 11am-6pm. The market is free to browse, open to the public, and handicap accessible. For more information, please visit DelRayArtisans.org/event/holiday-market-2017 or contact Gallery@DelRayArtisans.org.
Del Ray Artisans, founded in 1992, is a nonprofit organization whose mission is to promote art for the benefit of artists and the community.
Del Ray Artisans (DRA) appreciates the continued support from the City of Alexandria, Alexandria Commission for the Arts, Virginia Commission for the Arts, and National Endowment for the Arts. DRA is a 501(c)(3) organization.
---
Short Blurb – 35 words or fewer
Del Ray Artisans' Holiday Market offers unique handmade fine arts and crafts from local artists. Different artists each weekend! First three weekends in December. Fridays 6-9pm, Saturdays & Sundays 11am-6pm. Free admission. Details: DelRayArtisans.org/event/holiday-market-2017
Synopsis – 75 words or fewer
Del Ray Artisans' annual Holiday Market offers unique handmade fine arts and crafts from local artists. Different artists each weekend! Choose from wall art, pottery, photography, jewelry, glass, and much more! Plus FUNdraising 2018 wall calendars, cookbooks, and upcycled tote bags to support Del Ray Artisans. Free admission. Market is December 1-3, December 8-10, and December 15-17. Fridays 6-9pm and Saturdays & Sundays 11am-6pm. 2704 Mount Vernon Avenue, Alexandria. Details: DelRayArtisans.org/event/holiday-market-2017