The gallery is full of delightful works of art for purchase. Come to the gallery today to enjoy the current exhibition and purchase YOUR NEXT PIECE OF ART!
Hand-crafted Greeting Cards
Purchase hand-crafted greeting cards suitable for any occasion. These cards are made by Del Ray Artisans members just for you! Come to the gallery to browse the cards. All proceeds benefit Del Ray Artisans.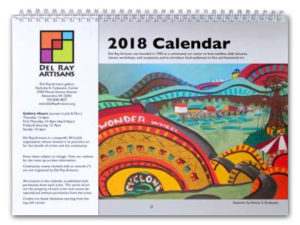 2018 Wall Calendar
Keep track of your 2018 dates with a calendar featuring artwork by Del Ray Artisans members. Includes Del Ray Artisans events, community events, national holidays, and major religious holidays. Available at the gallery for purchase. The calendar showcases 45 pieces of art. Three to four artworks are highlighted each month, plus a beautiful cover piece by Alanna S. Graboyes.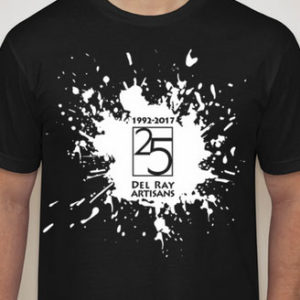 25th Anniversary T-Shirts
Del Ray Artisans' 25th Anniversary T-shirt is a black American Apparel Jersey T-shirt with silver print. The design is the anniversary logo "splashed" onto the shirt. T-shirt design by Cameron Turner and Josh Oliveira. Available in sizes small, medium, large, XL, and XXL. Buy your shirt at the gallery soon! Available while supplies last.
Upcycled Tote Bags & Zippered Pouches
Own a piece of Del Ray Artisans! We turned the banners we hang each month to advertise our art exhibits into one-of-a-kind tote bags—the ultimate recycle/reuse transformation! Each sturdy bag (15″ h x 16″ w x 5″ d) is unique. Come to the gallery today to select your tote bag. We are also offering zippered pouches (6″ x 9.5″) from banner material. If you have questions, please contact the office at Gallery@DelRayArtisans.org.