When:
November 26, 2017
all-day
2017-11-26T00:00:00-05:00
2017-11-27T00:00:00-05:00
Where:
Del Ray Artisans Gallery
2704 Mt Vernon Ave
Alexandria, VA 22301
USA

Exhibit Dates:  November 3-26, 2017
Opening Reception: Friday, November 3 from 7-9pm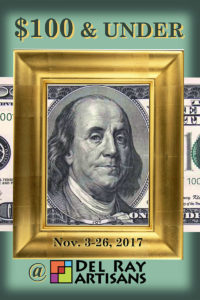 Del Ray Artisans artists present artwork for $100 or less that can go home with the patron at the time of purchase. This is a great chance to directly support the arts in your community at pocketbook-friendly prices.
Please join us for the opening reception on Friday, November 3 from 7-9pm to meet the curators and many of the artists. The gallery will be refreshed as sales leave space, so visit throughout the month to see all the new art!
The $100 & Under exhibit runs November 3-26, 2017. The gallery will be closed on Thanksgiving Day (closed November 23), but will be open the remainder of that weekend (open November 24-26).
The exhibit is at Del Ray Artisans gallery in the Colasanto Center, 2704 Mount Vernon Avenue, Alexandria, Virginia 22301. Gallery hours are Thursdays 12-6pm, Fridays 12-9pm, Saturdays 12-9pm, and Sundays 12-6pm. The gallery is free, open to the public, and handicap accessible.
For more information, please contact the curators Kathy Turner (kturnersan@gmail.com) and Michele Reday Cook (mredaycook@gmail.com).