When:
2016-10-30T00:00:00-04:00
2016-10-31T00:00:00-04:00
Where:
VCA Alexandria Animal Hospital
2660 Duke St
Alexandria, VA 22314
USA

May 15 – October 30, 2016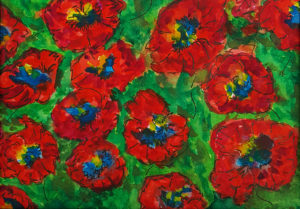 A Call To Service art exhibit opened on May 15, 2016 and runs through October 30, 2016 at the Veterinary Clinics of America Alexandria Animal Hospital (VCA Alexandria) as part of Del Ray Artisans' (DRA) Gallery Without Walls (GWW) program. Patrons may view the artwork at VCA Alexandria during regular business hours and at the discretion of hospital staff. (The show was originally scheduled to close on September 25, but has been extended to October 30.)
The exhibit highlights how the nature of service to others—whether it is given or received by humans, animals or a combination thereof—has a positive impact on individuals, communities, countries and, maybe, the World. A Call To Service was inspired by VCA Alexandria's dedication to working with the nonprofits Guiding Eyes, Veteran's Moving Forward, and the Wildlife Rescue League, as well as providing emergency support to local police and other animal rescue groups.
All artwork is available for purchase through Del Ray Artisans. Artists are donating 20% of the purchase price of sold pieces in an equal split between Del Ray Artisans and the VCA Alexandria Animal Hospital's charity of choice.
VCA Alexandria Animal Hospital is located at 2660 Duke Street, Alexandria, VA 22314. VCA Alexandria staff can be reached by phone at 703-751-2022 or 703-823-3601. DRA staff may be reached at Gallery@DelRayArtisans.org or 703-838-4827.
For more information, please contact L.G. Mierke at Animals@DelRayArtisans.org.