When:
October 19, 2017 @ 7:00 pm – 9:00 pm
2017-10-19T19:00:00-04:00
2017-10-19T21:00:00-04:00
Where:
Del Ray Artisans gallery
2704 Mt Vernon Ave
Alexandria, VA 22301
USA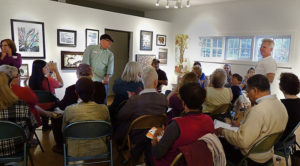 Thursday, October 19, 2017 from 7-9pm
We have a full agenda planned for you during the Annual Member Meeting! This will be your opportunity to hear information about all the shows planned for 2018. The President will present a special message about the organization. The Annual Meeting also includes elections for the 2018 Board of Directors, and a light supper will be served. If you have any questions, please contact Drew Cariaso, Director of Membership, at Membership@DelRayArtisans.org.
Vote in Person or by Proxy
All members are invited to attend, and "Members in Good Standing" will be able to vote—an excellent chance to renew your membership if you haven't already.
If you cannot attend, we urge you to make a Proxy vote. Please do this by emailing your vote (you can vote yea or nay for the entire slate or individual candidates) to Secretary@DelRayArtisans.org by Sunday, October 15 at 6pm, or by calling the gallery at 703-838-4827 on Thursday (10/12) or Friday (10/13) between noon and 6pm. All proxies must be received by Sunday, October 15 at 6pm to be counted.
Slate of Nominees
If you are interested in running for a Board Position or have questions, contact Donna Gallo of the volunteer Nominating Committee at autumn.rhythm@yahoo.com. The new Board will begin its duties on January 1.
Remember, you can nominate yourself or another member before the Member Meeting on October 19 or from the floor at the meeting. We are especially interested in filling the open positions, but you are welcome to run for any position on the Board, except for the advisory position of Past President.
Here is the current slate of nominees for Del Ray Artisans' 2018 Board of Directors:
President – Drew Cariaso
Vice President – John Bordner
Secretary – Kathryn Brown
Treasurer – Stephen Lally
Assistant Treasurer – Nancy Kline

Director of…
Archives – David McClure
Communications – Rita Schooley
Community – Marlin Lord
Curating – Kathy Turner
Facilities – Kurt Peterson
Fundraising Events – Joe Franklin
Grants & Sponsorship – Elizabeth (Betsy) Mead
Membership – Sophia Suarez
Outreach – David Heckman
Programs – Stacy Rausch
Technology – Dale Spivey
Volunteers – Judy Lynn
Youth Programs – Leigh Lafosse

Past President (not an elected position) – Kim Joy