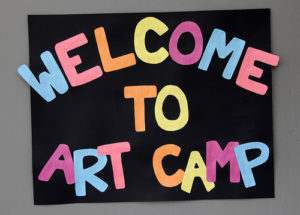 WEEK ONE: July 17 – 21, 2017 from 9am-4pm daily
(with gallery show on Saturday, July 22, 1-3pm)
or
WEEK TWO: July 24-28, 2017 from 9am-4pm daily
(with gallery show on Saturday, July 29, 1-3pm)
For Ages: 8-14 (no more than 22 children per week)

Del Ray Artisans invites young campers to spend a week creating art with professional artist instruction. All artist supplies are provided. There will also be a one-day only gallery show held on July 22nd and July 29th to show off the students' work from their week of camp.
Architecture and Adventures 2017 theme: Build BIG using all kinds of materials and inspiration!  To build BIG, we will be investigating different architecture from near and far and learning how materials, texture, form and design come together to make memorable structures.  Working with everything from cardboard and paint to clay and natural materials, our ideas will have no bounds!
Art Camp will be at the Del Ray Artisans gallery at the Nicholas A. Colasanto Center, 2704 Mount Vernon Avenue, Alexandria, VA 22301. The gallery is handicap accessible. For more information, contact the Art Camp Administrator/Youth Programs Director at Youth@DelRayArtisans.org and Office Manager at Gallery@DelRayArtisans.org.
Registration
You must register in advance. Register for either Week One or Week Two. Cost is $300/child until June 1 and $325/child after June 1. Your application is not complete until payment is received. You may pay with cash, check, or credit card at the gallery or by credit card online (instructions in the application).
Scholarship support may be available – contact Gallery@DelRayArtisans.org or stop by the gallery for an application.
Alternatively, you may fill out a paper application at the gallery (Del Ray Artisans, 2704 Mount Vernon Avenue, Alexandria, VA 22301). Contact the Office Manager at Gallery@DelRayArtisans.org with any questions.
---
Sponsor a Camper
Interested in sponsoring a camper? For a donation of $300 you can send a youth to camp for a week (all art supplies and instruction fees are included).