Exhibit Dates: March 31 – April 30, 2017
Opening Reception: Friday, March 31 from 7-9pm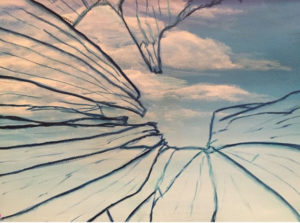 The Breaking the Glass Ceiling – The Sky's the Limit art exhibit at Del Ray Artisans gallery reflects on the metaphor "breaking the glass ceiling", pushing through a tough, not quite invisible barrier that keeps many from reaching their full potential or their dreams beyond a certain level in a hierarchy or in society. Breaking glass, breaking barriers, reaching beyond traditional boundaries, stretching beyond one's own and society's current limits, only accepting the limits of an endless sky have been a theme for many artists and reflect a very current theme. Please join us for the Opening Reception on Friday, March 31 from 7-9pm.
This year Del Ray Artisans celebrates 25 years of supporting visual artists; providing equal access to all has always been at the center of its mission. Inclusion of all to provide a space to advance beyond set boundaries is as important today as it was 25 years ago.
The Breaking the Glass Ceiling: The Sky is the Limit exhibit runs March 31 – April 30, 2017 at Del Ray Artisans gallery in the Colasanto Center, 2704 Mount Vernon Avenue, Alexandria, Virginia 22301. Gallery hours are: Thursdays 12-6pm (First Thursdays 12-9pm), Fridays 12-9pm, Saturdays 12-9pm, and Sundays 12-6pm. The gallery is free, open to the public, and handicap accessible.
For more information, please contact the curators Heike Gramckow (heikegramckow@yahoo.com) and Rachel Grodsky (rachelgrodsky@gmail.com) or Director of Curating Kathy Turner (Curating@DelRayArtisans.org).