When:
2017-08-27T00:00:00-04:00
2017-08-28T00:00:00-04:00
Where:
Del Ray Artisans Gallery
2704 Mt Vernon Ave
Alexandria, VA 22301
USA

Exhibit Dates:  August 4-27, 2017
Opening Reception: Friday, August 4 from 7-9pm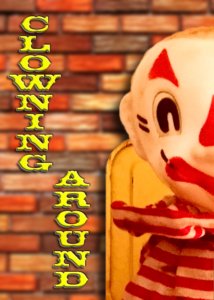 Clowns have been the subjects of paintings and graphics for centuries. Clowning Around is an exhibit that reveals local artists' inner clowns through art in fun, playful, sadistic, comedic, and tragic ways. Clowns have always evoked a variety of emotions from people. Many people are happy clown believers, drawn towards fanciful circus graphics or sympathetic weeping hobo clowns. Others prefer their clowns to be sinister figures lurking in dark alleys. Whether it's a childlike whimsy or journey into a carnival of crazy clowns, it's your world to explore.
Join us in this romp with a truly American genre at the opening reception on Friday, August 4 from 7-9pm to enjoy the unveiling of the exhibit and meet the curators, artists, and other art appreciators.
The Clowning Around exhibit runs August 4-27, 2017 at Del Ray Artisans gallery in the Colasanto Center, 2704 Mount Vernon Avenue, Alexandria, Virginia 22301. Gallery hours are: Thursdays 12-6pm (First Thursdays 12-9pm), Fridays 12-9pm, Saturdays 12-9pm, and Sundays 12-6pm. The gallery is free, open to the public, and handicap accessible.
For more information, please contact the curators Gordon Frank (gordonfrank666@gmail.com) and Zade Ramsey (zaderamsey@gmail.com) or Director of Curating Kathy Turner (Curating@DelRayArtisans.org).