When:
2017-01-29T00:00:00-05:00
2017-01-30T00:00:00-05:00
Where:
VCA Alexandria Animal Hospital
2660 Duke St
Alexandria, VA 22314
USA

October 30, 2016 – January 29, 2017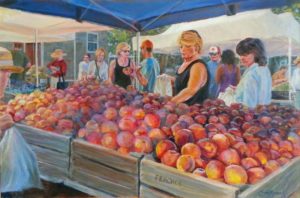 Local Flavor Revisited art exhibit opened on October 30, 2016 and runs through January 29, 2017 at the Veterinary Clinics of America Alexandria Animal Hospital (VCA Alexandria) as part of Del Ray Artisans' (DRA) Gallery Without Walls (GWW) program. Patrons may view the artwork at VCA Alexandria during regular business hours and at the discretion of hospital staff.
The exhibit features selected pieces from the Local Flavor exhibit Del Ray Artisans members presented in October 2016 at the main gallery in the Colasanto Center.
All artwork is available for purchase through Del Ray Artisans. As with prior shows at VCA Alexandria, artists are donating 20% of the purchase price of sold pieces in an equal split between Del Ray Artisans and the VCA Alexandria Animal Hospital's charity of choice. (VCA Alexandria has supported the nonprofits Guiding Eyes, Veteran's Moving Forward, and the Wildlife Rescue League, through past artwork sales.)
VCA Alexandria Animal Hospital is located at 2660 Duke Street, Alexandria, VA 22314. VCA Alexandria staff can be reached by phone at 703-751-2022 or 703-823-3601. Del Ray Artisans' volunteer GWW coordinator, Eileen O'Brien, may be reached at GWW@DelRayArtisans.org.