When:
2018-04-01T00:00:00-04:00
2018-04-02T00:00:00-04:00
Where:
Del Ray Artisans Gallery
2704 Mt Vernon Ave
Alexandria, VA 22301
USA

Outdoors In Art Exhibit
March 2 – April 1, 2018
Opening Reception: Friday, March 2 from 7-9pm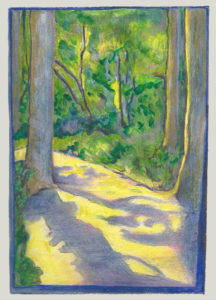 From the earliest drawings on cave walls to the journals of travelers, the exacting engravings of James Audubon and watercolors of A. A. Milne, much of our knowledge of the natural world came from artists. The Outdoors In art exhibit at Del Ray Artisans explores this topic. Artists demonstrate in painting, sculpture, textiles, found materials, drawing, and other media, the influence and representation of the natural world around us. The exhibit features work from Del Ray Artisans member artists and local high school and college students as well.
Join us at the opening reception on Friday, March 2 from 7-9pm to view the art and meet the curators, artists, and other art appreciators.
The Outdoors In art exhibit runs March 2 through April 1, 2018 at Del Ray Artisans gallery in the Colasanto Center, 2704 Mount Vernon Avenue, Alexandria, Virginia 22301. Gallery hours are: First Thursdays (April-September) 12-9pm, Thursdays 12-6pm, Fridays 12-9pm, Saturdays 12-9pm, and Sundays 12-6pm. The gallery is free, open to the public, and handicap accessible.
For more information, please contact the curators Joe Franklin (franklin.joe.t@gmail.com) and Margaret Wohler (wohler4@verizon.net) or Director of Curating Kathy Turner (Curating@DelRayArtisans.org).