When:
July 9, 2017 @ 1:00 pm – 4:00 pm
2017-07-09T13:00:00-04:00
2017-07-09T16:00:00-04:00
Where:
Del Ray Artisans
2704 Mt Vernon Ave
Alexandria, VA 22301
USA

Cost:
$75/$85 plus $15 supply fee
Contact:
Michele Reday Cook
703-838-4827
This workshop has been cancelled.
Learn basic sculpting techniques using papier mache. You will sketch an idea; then sculpt, and if time allows and you want, paint or finish the artwork. You'll learn to use pulp, sheets, and paint, and think in three dimensions! Papier Mache is an ideal medium for learning how to sculpt as a beginner. You will learn basic sculpting using pulp and or sheets and if necessary an armature. You will sketch an idea in three dimension to picture what it will look like; then sculpt, dry, and if possible paint the artwork. Papier mache is not just for schoolkids! This is a great way to start thinking in three dimensions.
Class size:  4-12 participants. Price is $75 for DRA members and $85 for non-members plus a $15 supply fee.
---
Meet The Instructor
Jonathan Ottke, ottkej.wixsite.com/jonathanottke
GUAC Workshops: Papier Mache for any level, Carving in Soapstone
Jonathan Ottke is an artist living next to a lake near Washington DC, where he walks and observes the world and people every day.  He lived in many places including by a chocolate factory in Waldenbuch, Germany, the Washington DC area, Nairobi, Kenya near the equator, and Vienna, Austria.  His art is deeply affected by his travels and by his training as a biologist.  He sees art as a spiritual practice that is a communication, a dance even, between the creator, the universe and the viewer that allow both to become better people. He studied art at the Academy of Art in Braunschweig and the University of Virginia. He continued his studies as a guest student in Vienna, Austria with the artist Arnulf Rainer.  He has displayed his art at many exhibitions in the Washington DC region.
---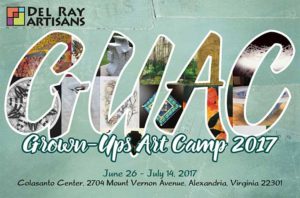 Grown-Ups Art Camp
This workshop is a part of Del Ray Artisans' Grown-Ups Art Camp (GUAC).