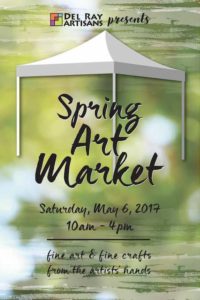 Our Spring Art Market is a one-day event that gives you the chance to purchase original handmade artwork from talented local artists. This outdoor market showcases artwork in a wide range of media including ceramics, photography, jewelry, fiber, paper, glass, and more. Shop for Mother's Day, graduation, a teacher's gift, birthdays, or just because!
The Spring Art Market will be on Saturday, May 6 from 10am-4pm in the Nicholas A. Colasanto Park, adjoining Del Ray Artisans gallery at 2704 Mount Vernon Avenue, Alexandria, VA (at the corner of Commonwealth Avenue and Mount Vernon Avenue). The event is held RAIN or SHINE, and is free and open to the public.
Featured Artists:
Rebecca Barnes (A Term of Art) and Kajal Dhabalia
Katherine Boles (Karma Kloset)
Lisa Jones (An Extra Special Design)
Stephen Lally (Stephen Lally Pottery)
Kevin Sherlock (Woodturning Arts)
Plus the nonprofit organization King Street Cats will be offering crocheted cat beds made by volunteers!
If you have questions about the market or how to apply for a market artspace, contact Tamara Wilkerson at ArtMarket@DelRayArtisans.org.