April 6, 2017 Update:
THANK YOU for your support! Del Ray Artisans appreciates every single Spring2ACTion donation. Over 50 Silver Stars were born yesterday during the giving event on April 5, 2017.
We are celebrating our 25th Anniversary all year, and continue our fundraising efforts to keep our high-quality exhibits, programs, and events inclusive and affordable. It's free to view the art! Gallery hours are: Thursdays & Sundays 12-6pm, Fridays & Saturdays 12-9pm.
If you missed your chance to become a Silver Star during Spring2ACTion, you can still participate at:
https://squareup.com/market/del-ray-artisans/silver-star
THANK YOU!
On Wednesday, April 5, our community will come together for 24 hours of unprecedented giving to support the amazing work of Alexandria nonprofits through Spring2ACTion, hosted by ACT for Alexandria and ACTion Alexandria.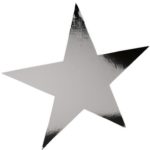 This year in honor of our 25th Anniversary, you can become a Silver Star by donating $25 or more to Del Ray Artisans! For your donation, a Silver Star will be hung in the gallery personalized with your name. All proceeds help Del Ray Artisans expand our artistic reach and support our 25th Anniversary Legacy Project of providing funding to selected Alexandria elementary schools with art needs for art-related books.
Also, on April 5 from 2-5pm, Del Ray Artisans is offering a FREE, clothed, life drawing session. Bring your drawing supplies and come ready to sketch!
Please donate to Del Ray Artisans on (or before) April 5 to be a part of Spring2ACTion. Donations made to Del Ray Artisans also give our non-profit a chance to win additional Spring2ACTion grants and prizes. Show your support by making a tax-deductible donation at: spring2action.razoo.com/story/Del-Ray-Artisans