When:
2017-06-25T00:00:00-04:00
2017-06-26T00:00:00-04:00
Where:
Del Ray Artisans Gallery
2704 Mt Vernon Ave
Alexandria, VA 22301
USA

Exhibit Dates:  June 2-25, 2017
Opening Reception: Saturday, June 3 from 7-9pm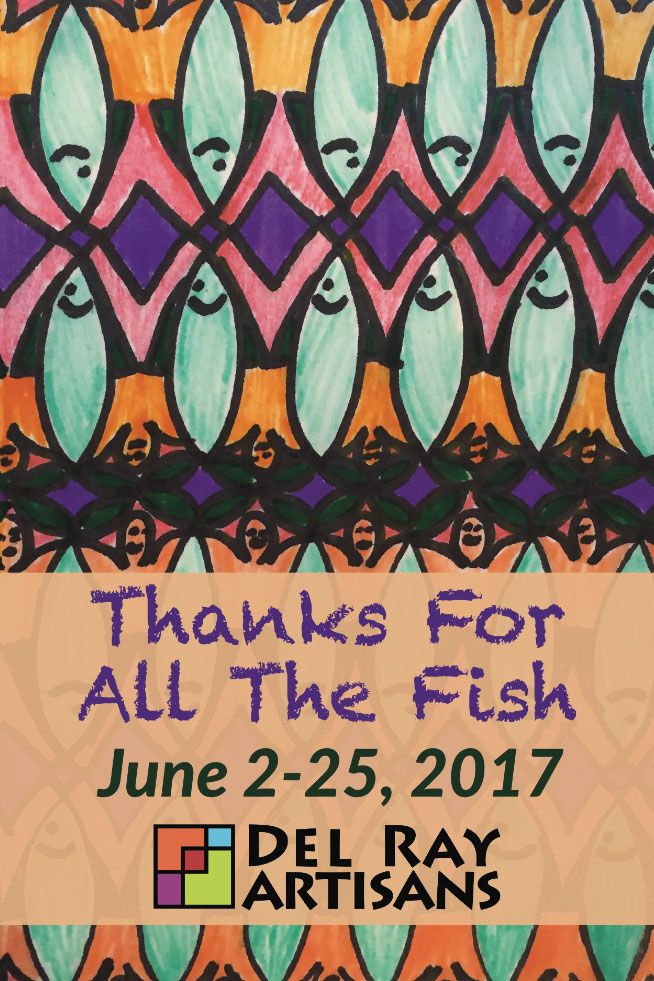 There is nothing fishy about volunteers – and they are owed a lot of thanks. This exhibit celebrates the 25th anniversary of Del Ray Artisans by honoring and featuring members who have proven to be exceptional volunteers for this art organization.
Fifty individual artists were invited to submit pieces. The featured artwork was selected by curators Kathy Turner and Joshua Oliveira. A big thank you to these exceptional volunteers who qualified for the exhibit: Veronica Barker-Barzel, Rebecca Barnes, Melanie Bikowski, Ron Blank, John C. Bordner, Kathryn A. Brown, Andrew Cariaso, Michele Reday Cook, Sean Crumley, Linda Elliff, Gordon T. Frank, Joe Franklin, Donna Lee Gallo, Gale S. Goldfarb, Heike Gramckow, Rachel Grodsky, Lesley Hall , David Heckman, Patricia P. Hickey, Bonnie Holmberg, Dawn Wyse Hurto, Kim S. Joy, Tom Kelly, Nancy S. Kline, Theresa A. Kulstad, Stephen Lally, Brandy Lellou, Miles Liss, Marlin G. Lord, Linda Lowery, Judy Lynn, Rusty Lynn, Liz Martinez, Milagros Mateu, David McClure, Betsy Mead, Eileen Marie O'Brien, Joshua C. Oliveira, Kurt Peterson, Zade R. Ramsey, Katherine P. Rand, Karen Schmitz, Rita Schooley, Dale Spivey, Pat Stacy, Kathy Stoner, Karen L. Thomas, Kathy Turner, Pamela Underhill, Lydia Walter, Tamara Wilkerson, and Tracy Wilkerson.
Please join us for the opening reception on Saturday, June 3 from 7-9pm to meet the artists, celebrate their dedication, and enjoy the art they share.
Del Ray Artisans is extremely grateful to its members who have gone above and beyond—working tirelessly to make our little corner of the art world successful. The organization itself has only two part-time employees and relies on the dedication, commitment and generosity of its members to keep providing the high-quality exhibits, programs and special events for which Del Ray Artisans is famous.
We are also celebrating Del Ray Artisans' 25th anniversary with special events throughout the year. The next event is a special Theater Night reception for the first showing of the play "Red, White and Tuna" on Friday, June 2, 2017 at The Little Theatre of Alexandria. The reception starts at 6:30pm and features heavy hors d'oeuvres, wine and refreshments, and a Champagne intermission. The curtain goes up at 8pm. Tickets are just $45 each. All proceeds support Del Ray Artisans nonprofit. Tickets for this special Theater Night will only be sold through Del Ray Artisans.
The Thanks For All The Fish art exhibit runs June 2-25, 2017 at Del Ray Artisans gallery in the Colasanto Center, 2704 Mount Vernon Avenue, Alexandria, Virginia 22301. Gallery hours are: First Thursdays (April-September) 12-9pm, Thursdays 12-6pm, Fridays 12-9pm, Saturdays 12-9pm, and Sundays 12-6pm. The gallery is free, open to the public, and handicap accessible.
For more information, please contact Kathy Turner (kturnersan@gmail.com).